WORKSHOPS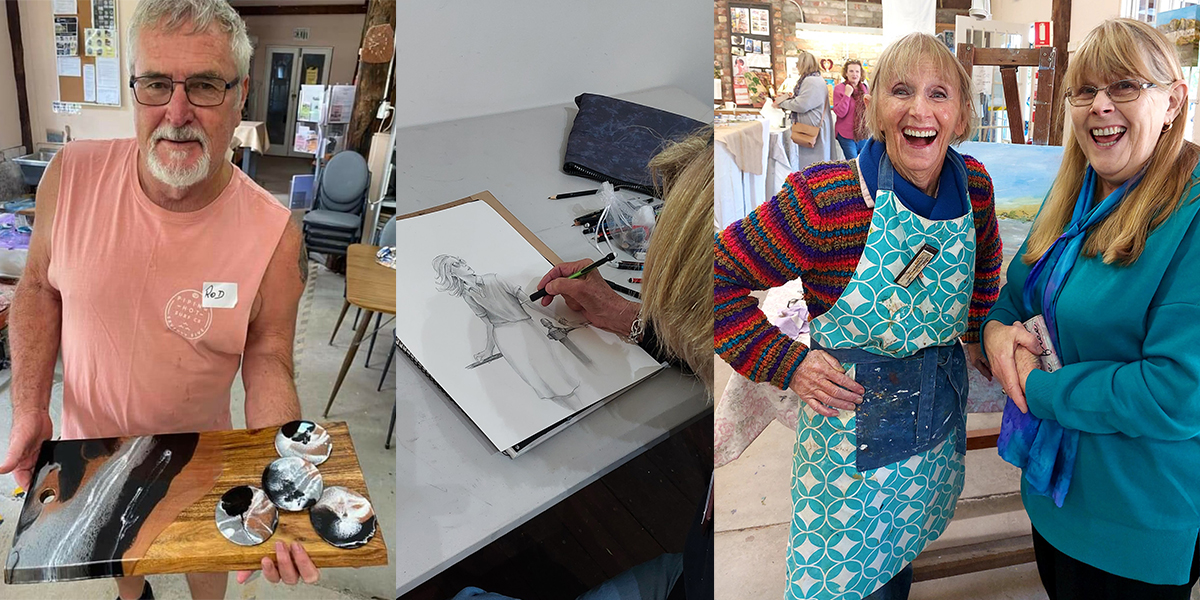 November Workshops – Completed
The Create and Graze Christmas Workshop was run by Karen of Blue Moon Collectables and Antiques, Pinjarra, in Terry's Room. It is evident that all enjoyed themselves and were very pleased with their creations.
Karen will be running more workshops at Pinjarra Arts Hub in 2024. Watch this space!!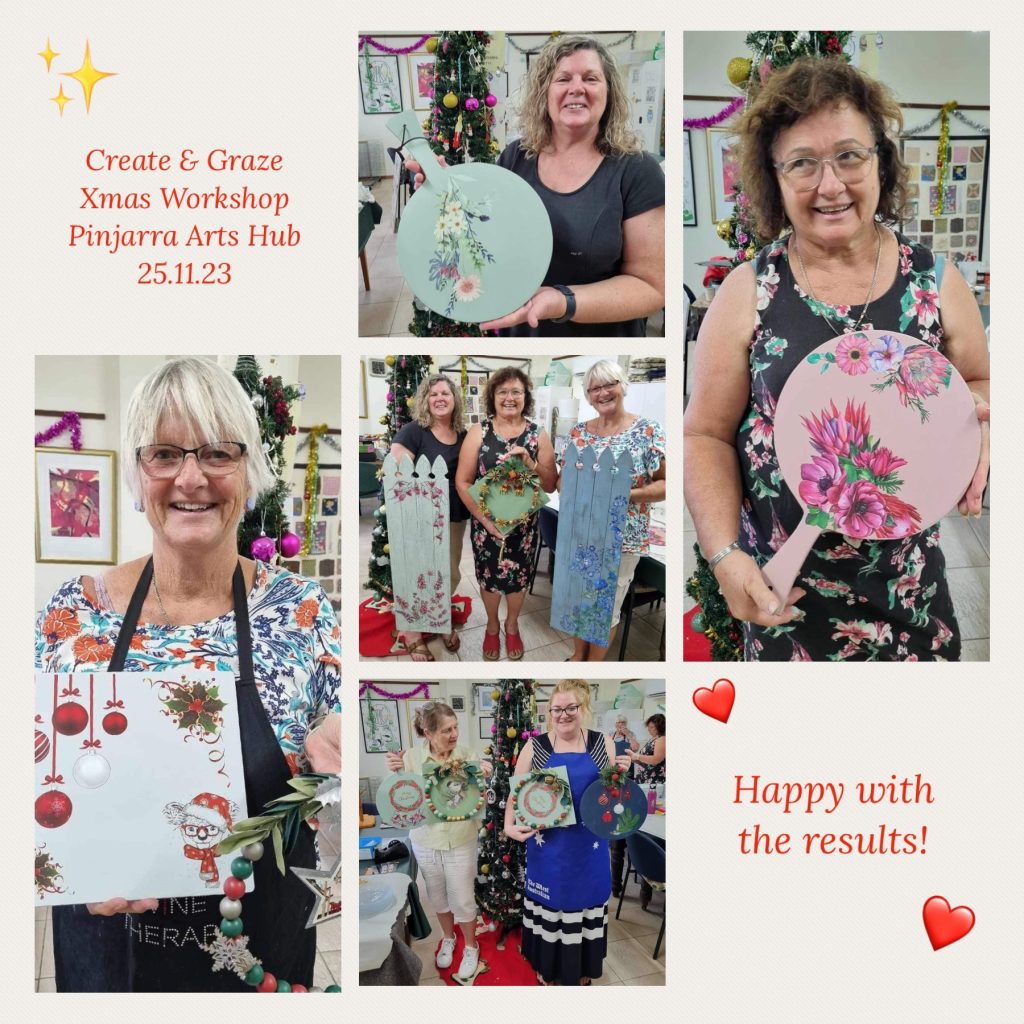 ---
December Workshops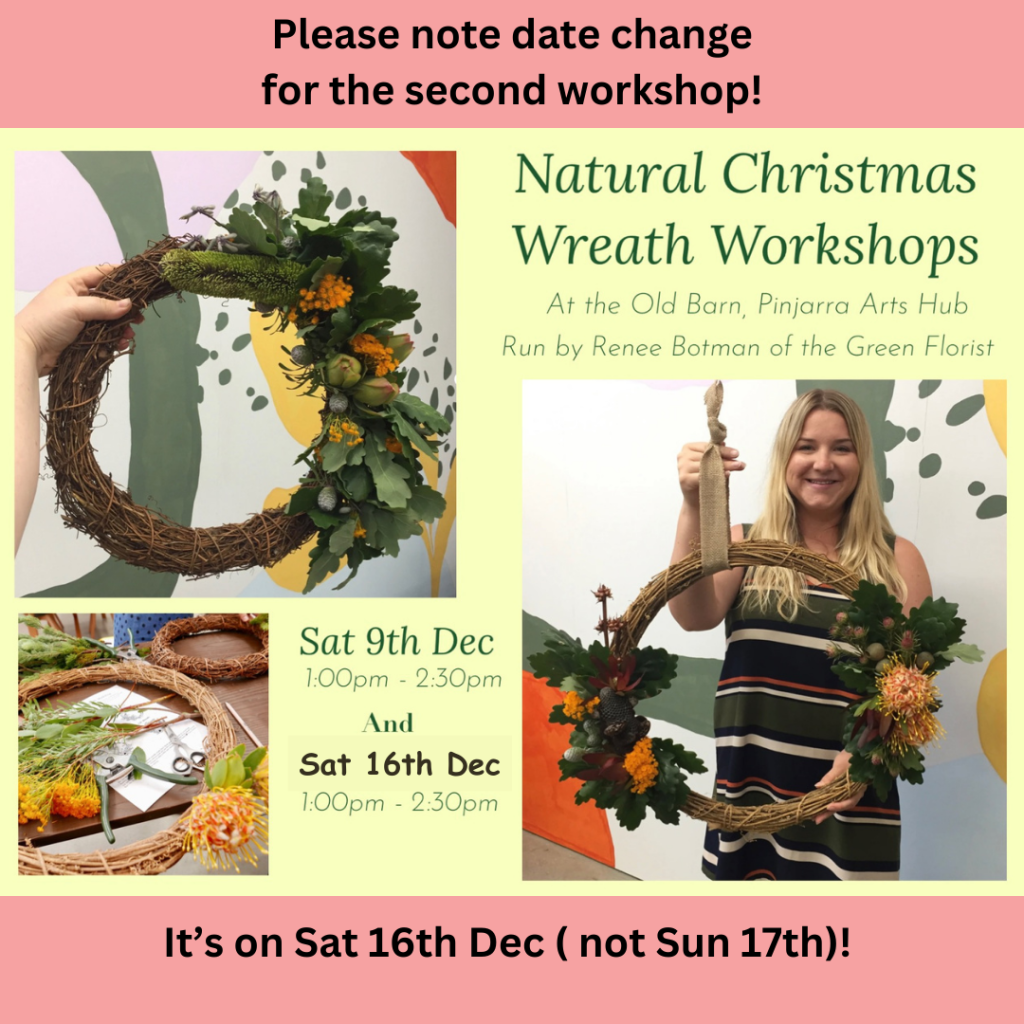 Join Renee for a fabulous afternoon of creativity and Christmas cheer, as you make your own gorgeous festive floral masterpiece.
In this workshop you will use only WA grown dried florals. The wreaths are plant based.
INCLUDED is:
– your natural 45cm wreath
– all blooms and foliage needed
– natural fibre ribbons and decorations
– delicious afternoon tea
– care and disposal instructions for your wreath.
BRING:
– an apron if you like to wear one
– comfortable shoes and clothing.
COST: $120 – 1 wreath for 1 person or $160 for 1 wreath per couple
TO BOOK: select one of the following links:
December 9th https://www.greenflorist.com.au/product/xmas-wreath-workshop-edenvale-9th-dec/92?cp=true&sa=false&sbp=false&q=false&category_id=2
December 16th https://www.greenflorist.com.au/product/xmas-wreath-workshop-edenvale-17th-dec/85?cp=true&sa=false&sbp=false&q=false&category_id=2
---
Run your next workshop with us at PAH
… and make a real difference in people's lives
What we're about
At PAH, we promote the well-being and value of participating in arts and crafts for all abilities, from beginners to advanced levels. Workshops provide arts and crafts skill-building opportunities for our regional community, allowing them to connect with others and explore their creativity.
About you
We want to attract a high standard of original self-organised Arts, Crafts and Design workshops from any discipline to stimulate interest and participation from our regional community.
If you are an artisan, maker, business or organisation passionate about teaching engaging traditional and contemporary arts and crafts skills from any discipline, we want to hear from you!
What we offer
Well-equipped, clean and safe workrooms for up to 15 – 20 participants
Public liability insurance
Month-in-advance bookings to ensure your spot
Half to full-day weekend time slots and some weekdays
Quality PAH-promotional posts about you and your workshop on our website, social media, and in our Arts and Craft Shop at no expense to you
Courtesy coffee and tea
Convenient free parking
Apply with us
At PAH, we try to make it as simple as possible to run a workshop with us. Here is some important information for you to consider when applying with us.
Duration
Workshops are run over a limited period to ensure a wide range of workshop experiences for our community.
For example, you can run your workshop over 2 – 3 consecutive Saturday mornings, over one weekend or the first Sunday of the month for 2 – 3 months.
Fees
$80.00 per workshop per day.
Self-organising
As a facilitator, you are responsible for organising and taking your bookings and payments. We can provide you with 'how-to guides' to organise your bookings and payments online with apps such as Eventbrite, and we can promote you and your work on our digital platforms.
Application form
Please complete the application form below.